Seminar "Effective diagnosis of epilepsy – the main task of a modern neurologist"
On May 17, 2023, during the 28th Kazakhstan International Exhibition "Health Care" a seminar on the topic will be held:
"Effective diagnosis of epilepsy is the main task of the modern neurologist."
Speaker: Shashkin Chingiz Sakaevich – functional neurosurgeon and candidate of medical sciences, Shashkin Clinic, Almaty.
The seminar will take place:
2:30 to 3:25 p.m.
Seminar room, Pavilion 11
Atakent CDC, 42 Timiryazeva St., Almaty, Kazakhstan.
The seminar is an excellent opportunity for medical professionals to gain valuable insights into the latest developments in epilepsy diagnosis. The seminar will provide an overview of the latest research and innovations in the field, and participants will have the opportunity to ask questions and participate in a discussion with the speaker.
Overall, the seminar promises to be an informative and useful event for anyone interested in the diagnosis and treatment of epilepsy.
The event will take place thanks to the financial support of Medico-Innovative Technologies LLP.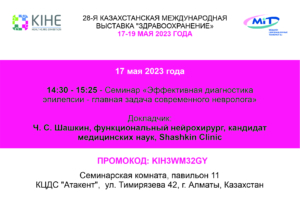 Link to register and get a ticket for free participation:
https://kihe.kz/ru/posetitelyam/poluchite-bilet-na-vystavku?promo=KIH3WM32GY