The international forum of neurosurgeons was held in a new format for the first time
The International Neurosurgical Forum and Film Festival "Neurosurgery: History, Modernity, Personality" was held from July 1 to July 3 in Nur-Sultan. Our company, Medical Innovations and Technologies, has become a diamond sponsor of this important event.
For the first time, the format of the event included not only a platform for discussing topical issues and exchanging experience, but also allowed to immerse into the history of the development and achievements of the industry, get to know the philosophy of clinical neurosurgery and the legendary personalities who formed it. Among them are Academician of the Russian Academy of Sciences A.N. Konovalov, Professor, Honored Scientist of the Russian Federation, L.B. Lichterman, Professor, Honored Scientist of the Russian Federation, V.A. Khachatryan.
Within the framework of the event, the forum participants congratulated S.K. Akshulakov, the Academician of the National Academy of Sciences of the Republic of Kazakhstan, Chairman of the Board of JSC "National Center of Neurosurgery", President of the KAN on the 70th anniversary . The forum was attended by more than 150 delegates, including neurosurgeons and residents. As guests of honor, the forum was visited by Deputy Prime Minister of the Republic of Kazakhstan E.L. Tugzhanov,  Minister of Health of the Republic of Kazakhstan A.G. Giniyat,  Chairman of the US Neurosurgical Society, Professor Abdulrauf Salim, representatives of the administration of the Nur-Sultan city akimat and others. Reports of leading neurosurgeons from the USA, Japan, Europe, Russia, Uzbekistan, Kyrgyzstan, Tajikistan, Kazakhstan were presented at the forum, and documentaries about outstanding neurosurgeons and their contribution to the formation of the neurosurgical service of their countries were shown as part of the film festival. The invited guests from our company were Vinicius Dessoy Maciel, President of Brainlab (Germany) and Denis Baburov, Regional Customer Service Manager of Brainlab (Germany).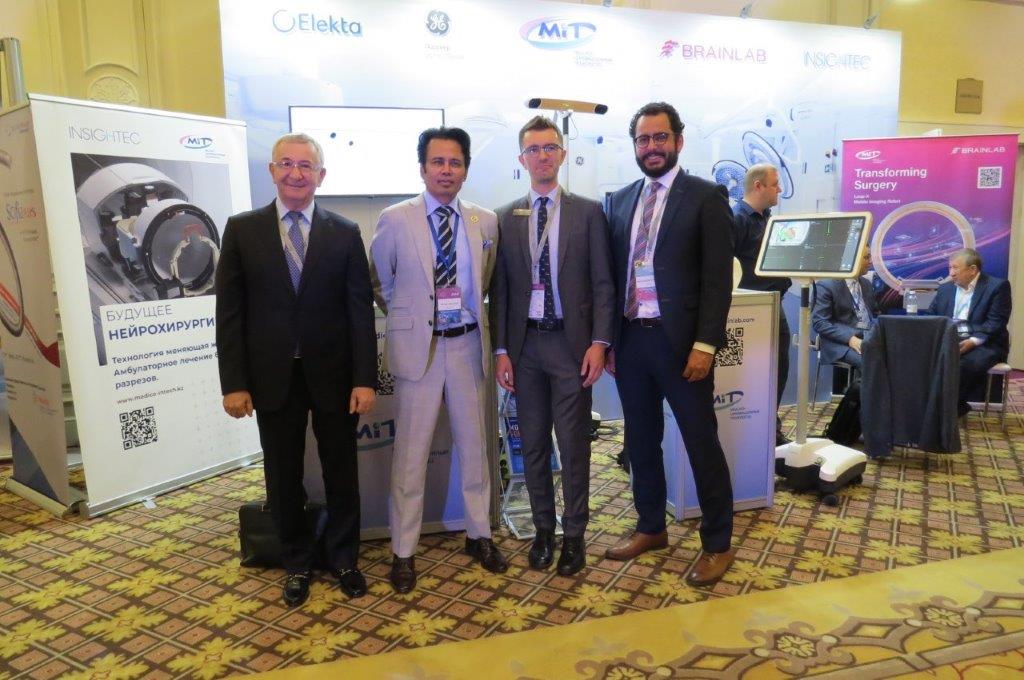 The company Medical Innovations and Technologies organized a speech by V.M. Jafarov, a neurosurgeon at the Federal Center for Brain and Neurotechnology, Moscow, with a report on the topic: Transcranial focused ultrasound in neurosurgery: initial experience". The use of the MRgFUS method for thalamotomy and pallidotomy in essential tremor, tremor-dominant form of Parkinson's disease using the ExAblate system, INSIGHTEC (Israel) is approved by the FDA and CE Mark. The system is also used in a number of countries for neuropathic pain and OCD. ExAblate is a revolutionary non-invasive therapy system for performing controlled MRI non-invasive tissue destruction without ionizing radiation with high accuracy and real-time thermometry. A similar MRgFUS technology (focused ultrasound under MRI control) from ExAblate, INSIGHTEC (Israel), is already being used in the Multidisciplinary Center of Oncology and Surgery (Ust-Kamenogorsk) for the treatment of uterine fibroids, prostate cancer and bone metastases.