"Brainlab navigation in spinal surgery" lecture will be held at the Central Clinical Hospital, Almaty on April 28, 2023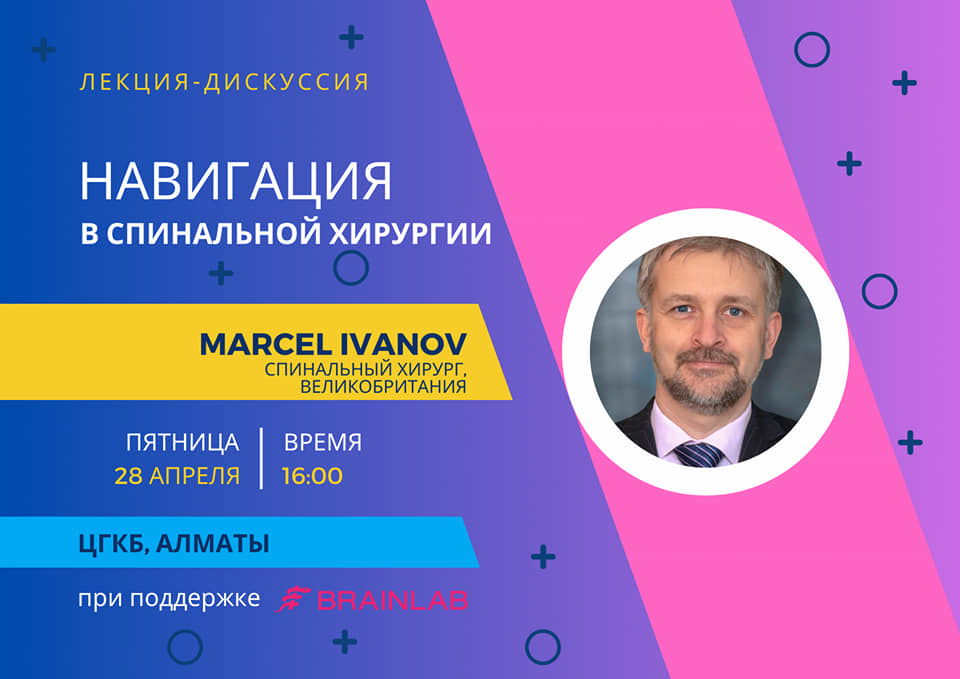 Brainlab together with the Department of Neurosurgery  of Asfendiyarov Kazakh National Medical University and the Kazakhstan Association of Neurosurgeons (KAN) invites you to participate in the next meeting of the "Society of Neurosurgeons of Almaty".
In addition to the bright reports of members of the society, a guest from the UK is planned to speak – the spinal surgeon of the Royal Hallamshire Hospital in Sheffield, Marcel Ivanov.
Presentation topic: "Navigation in spinal surgery".
Marcel Ivanov is Head of Spine in the Department of Neurosurgery and Head of Audit in Neurosciences and Director of SPINE Center Sheffield JSC.
In 2017-2019 he was elected to the Board of SPINE JSC UK (Neurosurgery) and as of 2019 is Chairman of  SPINE JSC UK & Ireland.
Mr. Ivanov plays an active role in the European Association of Neurosurgical Societies, AO SPINE and EUROSPINE.
Since 2019, Mr. Ivanov has been a member of the Expert Group on Medical Devices and the European Commission.
His area of interest is the treatment of spinal pathologies with an emphasis on minimally invasive neurosurgical techniques, with a particular interest in the treatment of spinal cord tumors.
Date of the meeting: 28 April.
Time: 16:00.
Venue: Conference Hall of the Central City Clinical Hospital, Almaty.
Medical Innovative Technologies LLP is the exclusive distributor of Brainlab in Kazakhstan.