On April 27-29, 2022, the xiii congress of oncologists and radiologists of the CIS and Eurasian countries was held
On April 27-29, 2022, the XIII Congress of Oncologists and Radiologists of the CIS and Eurasian countries was held. The congress brought together more than 5,000 leading Russian and foreign experts in the field of oncology, radiology, radiation therapy, surgery and other related fields.
The event with the participation of leading experts from the CIS countries gave an opportunity to a large number of oncologists to get acquainted with the latest achievements in science and practice.
Within the framework of the congress, the General Director of our company Igor Zakharov made a speech on the topic "ALGORITHM FOR THE IMPLEMENTATION OF PROJECTS FOR THE RECONSTRUCTION AND CONSTRUCTION OF ONCOLOGICAL CENTERS IN KAZAKHSTAN ON THE EXAMPLE OF THE EXPERIENCE OF THE COMPANY "MEDICAL INNOVATIONS & TECHNOLOGIES".
In his speech, he spoke about the aspects of work that are very important for a medical organization and doctors, which must be known and taken into account for the successful implementation of projects for the re-equipment, reconstruction and construction of existing and new medical facilities. The correct development of medical and technological tasks, understanding the importance, interrelationships and features of different stages of work is the key to timely, high-quality implementation of projects for the further effective work of doctors.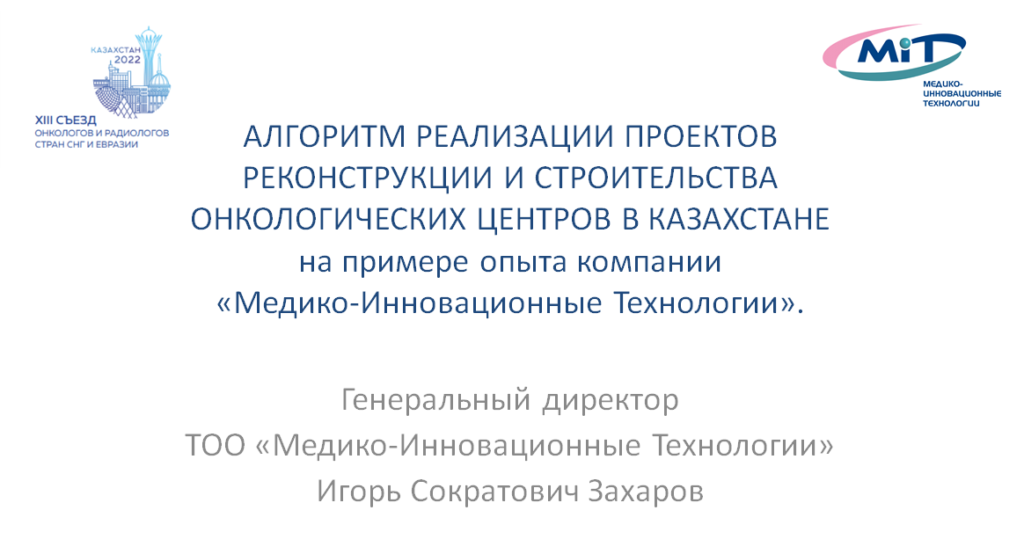 Our company is proud of the successful implementation of more than 45 turnkey projects, including the reconstruction of regional cancer centers.